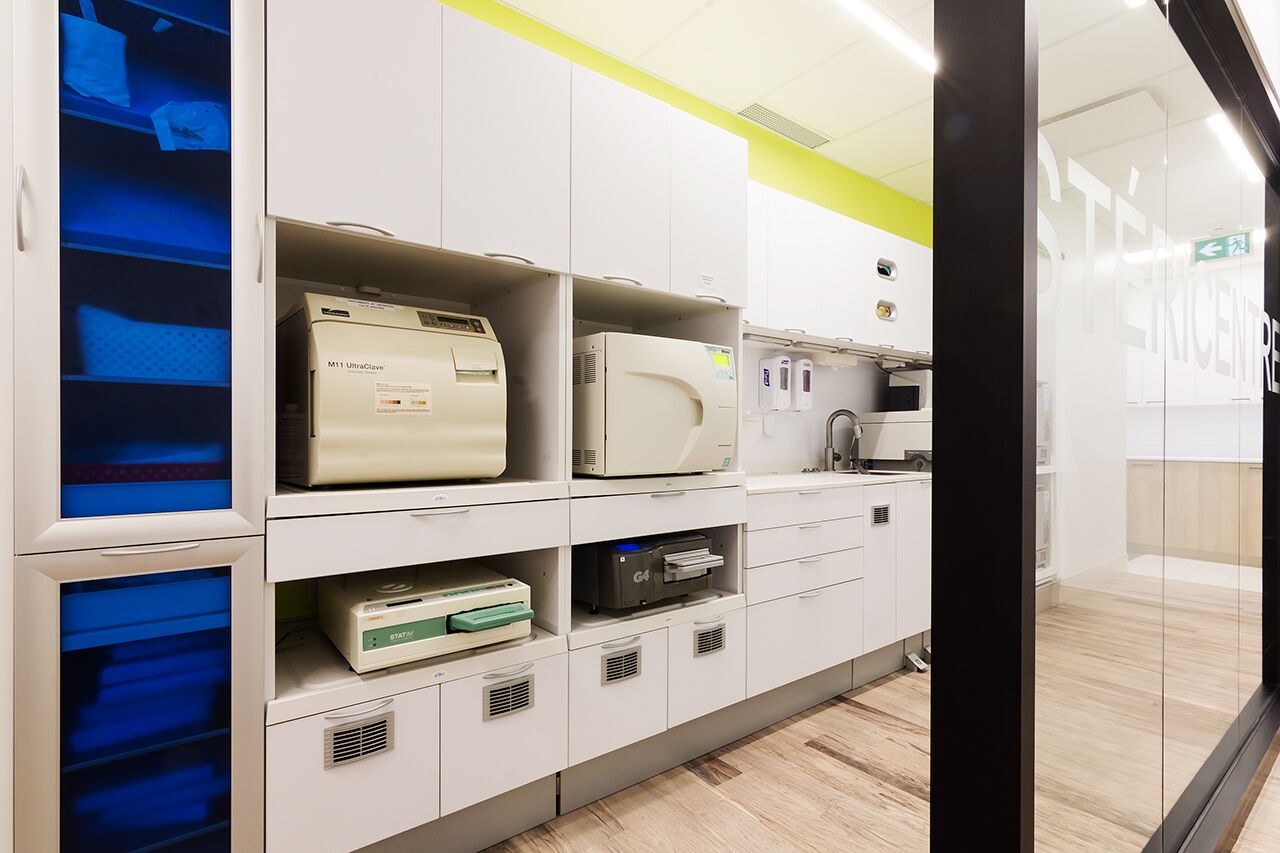 And if we were talking about sterilization
Sterilization is the method of destroying various microorganisms (bacteria, viruses, fungi, parasites) present on a material support. This method is used in particular in the medical and dental field, in cooking as well as in pharmacology.
To obtain quality sterilization, we comply with high-level standards, inspired by lectures given by Dr. Jean Barbeau, microbiologist and full professor at the Faculty of Dentistry and the Faculty of Medicine of the University of Montreal. .
Several steps are necessary to achieve adequate sterilization. All reusable instruments must be cleaned, rinsed, dried, wrapped, sterilized and stored, following a specific protocol, right here in one of our 2 sterilization centers.
Disinfection of our operating rooms
By definition, disinfection is the destruction of microorganisms from a place, an object, the external part of the human body.
We proceed at the beginning and end of the day as well as between each patient to a complete disinfection of our rooms by following a precise protocol. Each part of the furniture (chair, tray, counter, light, etc.) is cleaned and disinfected using disinfectant wipes (optim33). Our disinfection product has as active ingredient hydrogen peroxide. It has a tuberculid, virocidal and bactericidal effect which therefore makes it a broad-spectrum sanitizer.
In order to ensure the quality and compliance of our sterilization, regular tests are carried out on our equipment. We carry out a biological test once a month which is analyzed and processed in a laboratory. This allows us to confirm the proper functioning of our devices and thus ensures the protection of our customers.
Sterilization steps on our instruments:
Instrument cleaning :
Cleaning the instruments is the first action to take in the sterilization process. It eliminates any biological residues that could have adhered to the instrument during its use in the mouth of a client. To do this, we brush the instruments under the tap as needed using a brush with stiff bristles. Then we place the instruments in an ultrasonic bath filled with an enzymatic solution for about ten minutes. Together, the vibration of the bath and the enzymes allow the disorganization of microorganisms and quickly dislodge blood, serum or other residues on the instruments.
Instrument rinsing :
After their stay in the ultrasonic bath, the instruments are rinsed with plenty of water under a tap to remove all traces of enzymatic solution.
Instrument drying :
Subsequently, our instruments are placed in a dryer specially designed for a sterilization center. The important thing in this step is to ensure that all traces of water are eliminated in order to minimize the risk of contamination during subsequent steps.
Instrument packaging :
When our instruments are completely dry, we pack them in bags specially designed for sterilization. They are equipped with indicators allowing us to make sure at a glance that the bag and the instruments in it are indeed sterile.
Instrument Sterilization :
Once packaged, the instruments are placed in one of our sterilization devices (M11 Ultraclave, Statim autoclave) for a complete sterilization cycle and drying time. To ensure the quality of sterilization, a visual inspection of the bags is done before storing the instruments. All damaged bags are considered non-sterile and the instruments found there will then have to repeat each step from the beginning.
Instrument storage :
In order to eliminate the risk of contamination as much as possible, all instrument bags are carefully stored in the drawers of our operating rooms and the sterilization center. We take out the instruments only when we need them.
Other topics that might interest you :