Are your gums bleeding?
If so, you may be suffering from periodontitis…
Periodontitis is a disease that causes the destruction of the tissues that support the teeth.
Its diagnosis is made using a phase contrast microscope and a sample of dental plaque taken and analyzed to see the types of microbes that are present. We can also use x-rays to help diagnose periodontitis because we can see the bone loss there.
The consequences of periodontitis are:
• Bad breath
• Bleeding gums
• Tartar accumulation in inaccessible places
• Loss of bone support
• Tooth mobility
• Tooth loss
• Inflammation/edema
• Sensitivity
• Heaving
Periodontitis is a silent disease and when you realize it, it is often too late, bone destruction has already begun.
Periodontal disease does not only have detrimental effects on the oral cavity, the whole body can suffer from the effects of periodontitis.
Assess periodontitis
To measure the extent of bone destruction, a periodontal assessment is necessary. During this appointment, we take several measurements using a graduated instrument to assess the bone destruction not visible to the naked eye. The measurement we get indicates the depth of the periodontal pocket. It is in this pocket that dental plaque, tartar and bacteria that cause periodontal disease accumulate.
Did you know that?
Periodontal disease is the main oral problem in adults and the elderly. However, more and more studies are establishing links between periodontal disease and other diseases, including cardiovascular and respiratory disorders.
Periodontal probing
Step 1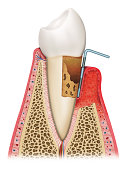 Step 2
Treatment of periodontitis
Periodontitis is reversible, however, the bone lost during the infection cannot be regained completely. The treatment of periodontitis involves several steps:
• Hygiene instruction
• Disinfection
• Descaling
• The control period which is personalized according to your needs
During the disinfection and scaling phase, the diode laser is used to go into the pockets to disinfect as well as to start and accelerate the healing process.
Did you know?
Gum diseases, better known as periodontal diseases, are among the most common worldwide. 70% of the population of the planet would present this pathology in one form or another. In addition, nearly 900 million people suffer from a severe form of periodontal disease, which is a potential health risk factor, including some serious health problems. Here are the potential physical effects of moderate to severe periodontal disease:
2 times more strokes
2 to 5 times more chronic respiratory diseases
2 times more coronary heart disease
4 to 7 times more complications in case of pregnancy
2 to 4 times more diabetes
Here is information from the Order of Dental Hygienists of Quebec: Your mouth is the mirror of your health
Other topics that might interest you :