Are you missing teeth? Have you been suggested to replace them with a bridge? Wondering what is a bridge?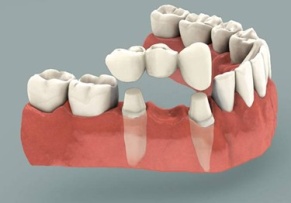 A bridge is a dental restoration that replaces one or more missing teeth. It is usually formed of an artificial tooth fixed between 2 crowns. The bridge is held in place by your teeth on either side of the missing tooth(s). It is permanently attached and cannot be removed.
Benefits
Without surgery
Short-term aesthetics
Fixed
Average price/quality ratio
Disadvantages
Bone and gum continue to resorb under the bridge
We must work the adjacent teeth to hold the bridge
Aesthetics compromised in the long term due to the loss of gingiva
Possibility of decay below the bridge in the long term
Lifespan of 8 to 15 years depending on the maintenance with the possibility of losing the abutment teeth (teeth on each side of the tooth or missing ones)
More difficult to clean
Maintenance of your bridge
If you take good care of your bridge, it should last about 10 years, maybe longer. As with natural teeth, you should brush your bridge and floss daily. Your dental hygienist will show you how to use a threader to floss under the bridge, and around the teeth that support the bridge. Regular dental checkups and professional cleanings are also important.
Your dentist may also recommend an implant to replace the missing tooth.
Other topics that might interest you :