Tooth Sensitivity
If you experience sharp, stabbing pain in one or more teeth, you may have tooth sensitivity, also known as dentin hypersensitivity. This sensitivity is often caused by exposure of the root of the tooth due to receding gum tissue (loosening). The root is made up of a layer of dentin, which is much more fragile than enamel. This sensitivity can also come from a destruction of the enamel, which also exposes the dentin. Dentin hypersensitivity is common especially in people between the ages of 20 and 50 and affects 1 in 3 Canadians. It is a very common reason for consultation.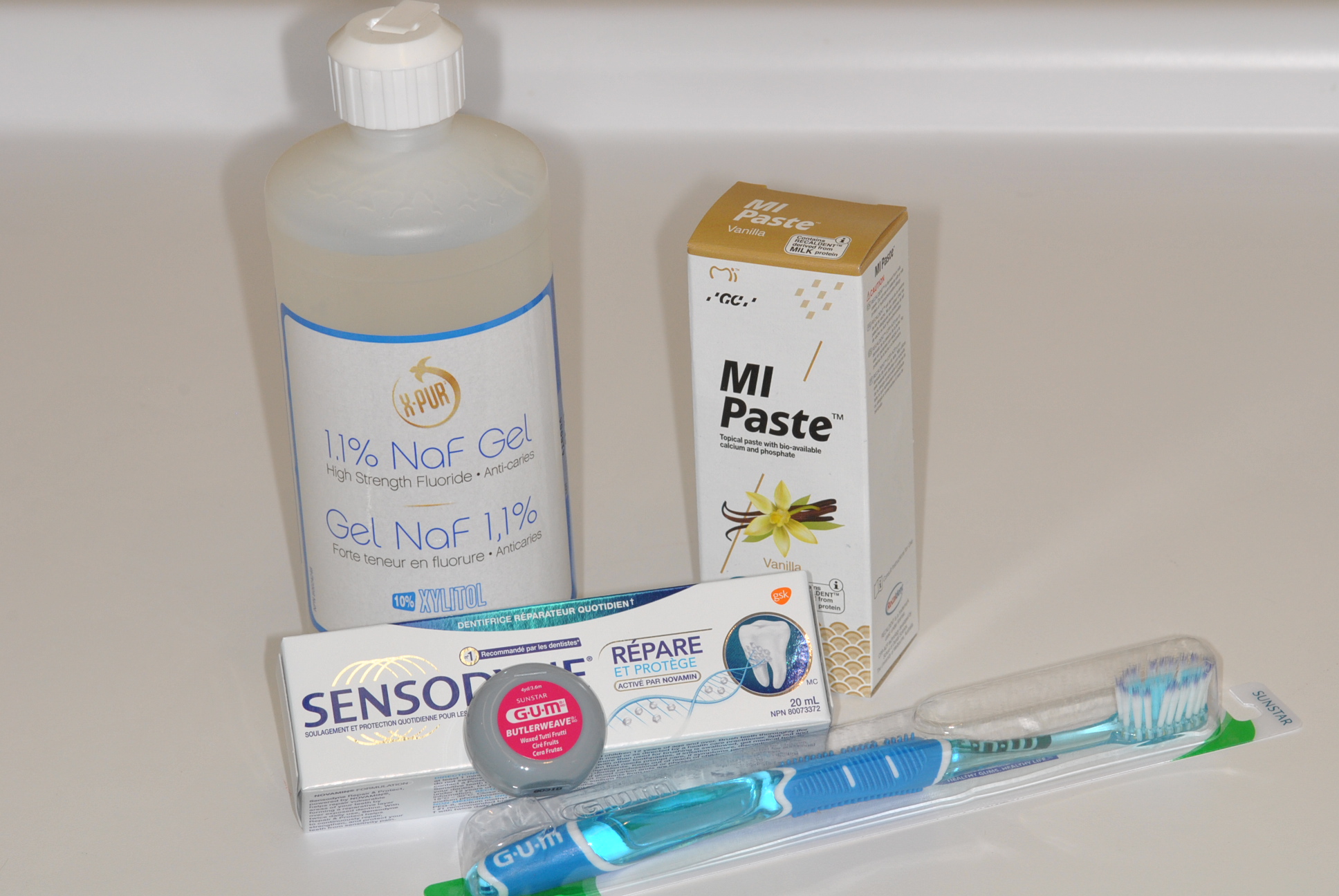 Treatment of tooth sensitivity
Once the diagnosis of hypersensitivity has been confirmed by the dentist, the dental hygienist can advise you on various possible treatments :
Remineralising toothpaste: Several toothpastes contain active ingredients that can reduce and even eliminate sensitivity. We suggest Sensodyne Repair & Protect, with Novamin as well as MI Paste Remineralizing Paste
Application of a fluoride varnish by the dental hygienist
Careful biofilm (plaque) control: A new brushing and flossing technique may be demonstrated to you to remove plaque from affected areas.
Change in certain eating habits
Treatment with an agent containing high concentrations of fluoride
Laser desensitization
Covering with a composite (white filling) of the hypersensitive region
Occlusal plate to reduce the clenching of the teeth
Causes de la sensibilité dentaire
Consumption of acidic or sugary foods or beverages causes a chemical process that demineralizes tooth structure, resulting in sensitivity.
Gum disease, or gingivitis/periodontitis, often causes the gums to recede, exposing the root of the tooth and making it sensitive.
Gastroesophageal disorders (gastric reflux, vomiting, etc.) can cause dental erosion and have an effect on the teeth comparable to the consumption of acidic foods and beverages
Excessive brushing, too vigorously or with a toothbrush with stiff bristles, wears down the enamel prematurely and damages the gums, eventually exposing the dentin.
Teeth grinding, or bruxism, causes great trauma to the teeth, making them sensitive, especially upon awakening.
Teeth whitening causes sensitivity, but it is reversible.
However, dental pain can have other causes:
A cavity or broken tooth
A mouth infection
A sinus or ear infection
Old faulty fillings…
Factors contributing to tooth sensitivity
Certain factors can trigger tooth sensitivity on one or more teeth:
Cold drinks or food
Sweet or acidic foods or beverages
Tooth brushing
Fresh air
And even just touch it
This sensitivity can be occasional, or even disappear and return cyclically. But in some cases, the pain is constant and causes significant discomfort.
Tooth sensitivity can be treated and even eliminated, with dental hygiene and diet advice.